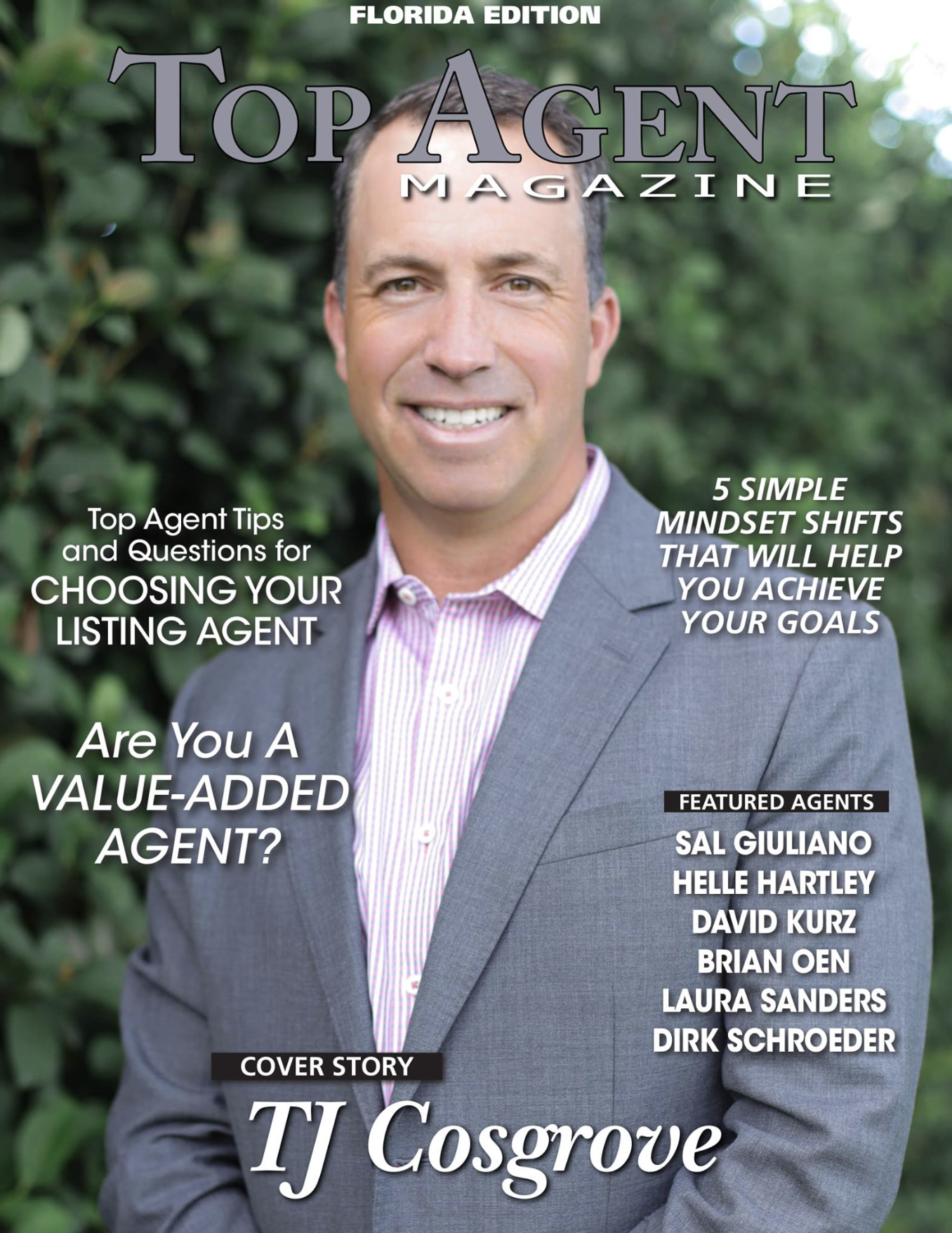 TJ Cosgrove, Broker/Owner 
of
 Reunion Realty was featured in the Florida Edition of Top Agent Magazine! 
Top Agent Magazine is the premier real estate magazine featuring the foremost real estate agents, mortgage professionals, and affiliates in the USA, Europe, Canada, Australia, and New Zealand. Top Agent Magazine features the top producing and most accomplished professionals in the real estate industry, offering an in-depth look at their careers and providing a blueprint for their success.  
To be considered for a feature in Top Agent Magazine all professionals must go through a nomination and interview process. ALL Candidates are then evaluated based upon production, professionalism, as well as industry and community involvement. It is considered a privilege to be nominated as it speaks to a certain success level all real estate agents strive for.
More about Tj's success story….
Following his career as a Golf Pro at Isleworth Country Club, TJ Cosgrove, jumped whole- heartedly into his passion for his real estate career in 2005. At the start of his business, he built experience working alongside developers and resort communities, developing the skills and relationships needed to succeed in the marketplace. Fourteen years later, TJ's brokerage has differentiated him as a top agent in Orlando's bustling real estate scene. His reputation for professionalism, in-depth expertise, and an abiding commitment to client-centric care makes TJ a prominent leader in today's real estate market.
Today, TJ operates two innovative real estate brokerages serving the greater Orlando area. Reunion Realty, TJ's first real estate brokerage, focuses on expertise and knowl- edge on Reunion Resort, a 2,300-acre resort style community, targeting prospective buyers, sellers as well as investors. Champions Realty, TJ's secondary brokerage in theSouthwestOrlandoarea,hasateamthat focuses on vacation and second homes as well as the primary owner and investment properties ranging from $100,000 condos to estates over $7-million, and caters to both buyers and sellers.
Over the course of his career, TJ's client relationships and expert marketing has led to repeat and referral clientele—a testament to the lasting impression he makes upon clients. TJ attributes his success to his daily reminder and his office's slogan: "Solving the Problem." Client care, regional knowledge, and consistent communication are key to TJ's continued success in real estate. "To us, the client's needs are first and foremost," he says.  TJ and his team serve as seasoned stewards who understand the region's distinct, layered marketplace and help clients in and out of state navigate the purchase and sale process. "Buyers everywhere are looking online, trying to educate themselves. There are so many communities here that may appear similar, but we set ourselves apart for being experts and understanding the intricacies of different properties and neighborhoods within those varying communities and developments," TJ says.
As for the future, TJ plans to keep momentum strong as both brokerages rapidly grow and new team members join. "We're really excited about the Orlando area's market," he says. "As boutique brokerages, we're able to make quick decisions and move into markets to help clients best. We are always looking to continue to grow our team and position in the marketplace."
To Read the Full Article Click Here!