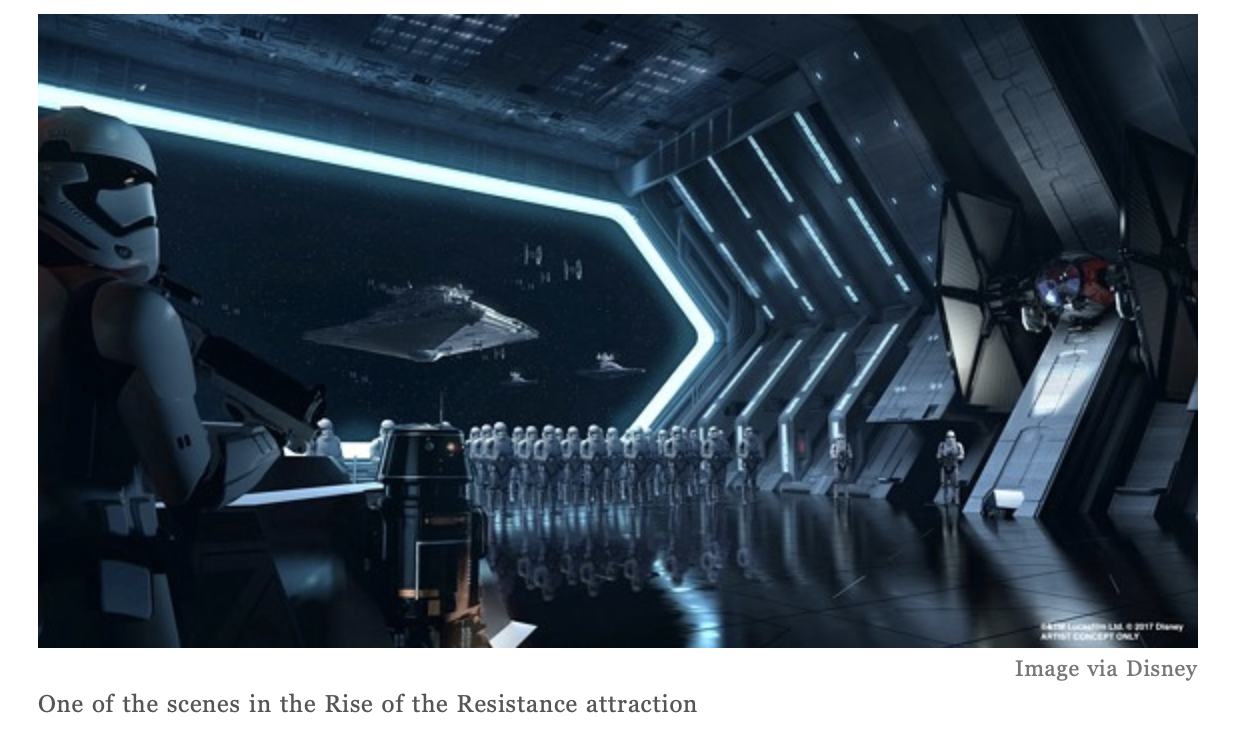 As the holidays approach, one of the most anticipated new attractions of the year is readying to open at Walt Disney World, Star Wars Rise of the Resistance. The experience will follow a standard theme park trope of guests being recruited for a secret mission, which then goes horribly wrong – but in the end, everyone escapes unharmed!
Rise of the Resistance will use groundbreaking technology and impressive, larger-than-life sets to become one of the most technologically advanced attractions ever built. It's pitched as the next step in an evolution of theme park rides, being said that the line queue being so popular that it is viewed as an attraction in its own right. Rise of the Resistance is expected to usher in the next chapter in the story of how queues and pre-shows are integrated into a ride. Guests will enter through a Resistance base camp with much of the queue in "laser cut" caves. After a brief pre-show featuring a holographic Rey and a BB8 animatronic, guests will board shuttle transports in groups of around 30 to 50 at a time.
A high-def screen larger than an average IMAX screen will simulate space. In front of the screen, dozens of Stormtroopers will stand guard. This room is designed to wow, and from everyone who has seen it in person, it does that like no scene in a Disney ride has ever done before. From here guests will stand in a second short queue before loading onto a trackless ride vehicle, each with its own droid pilot. Most of the Rise of the Resistance ride will be experienced with two ride vehicles in tandem, roughly halfway through the trip, just after going through a room of life-size AT-ATs, the ride vehicles separate and will individually enter an elevator, moving to the second floor of the attraction where they will reunite.
After a few more show scenes on the upper level, the four-and-a-half-minute ride will climax with an impressive drop sequence. Though the actual drop will only be less than 20 feet, special effects should convince most guests it's much larger. The drop sequence is viewed as the modern version of a similar scene on Universal's Spiderman ride, though in that scene, there is no actual drop of any type.
Opening Rise of the Resistance is the last significant piece yet to open. For Disney, Rise of the Resistance is more than just a new ride. It's what will define this era of Disney attractions and leadership.  Rise of the Resistance along with Episode IX: The Rise of the Skywalker are both set to open in December, meaning we should know by January if the billions of dollars Disney has spent on Star Wars will pay off.
Read the full article HERE.