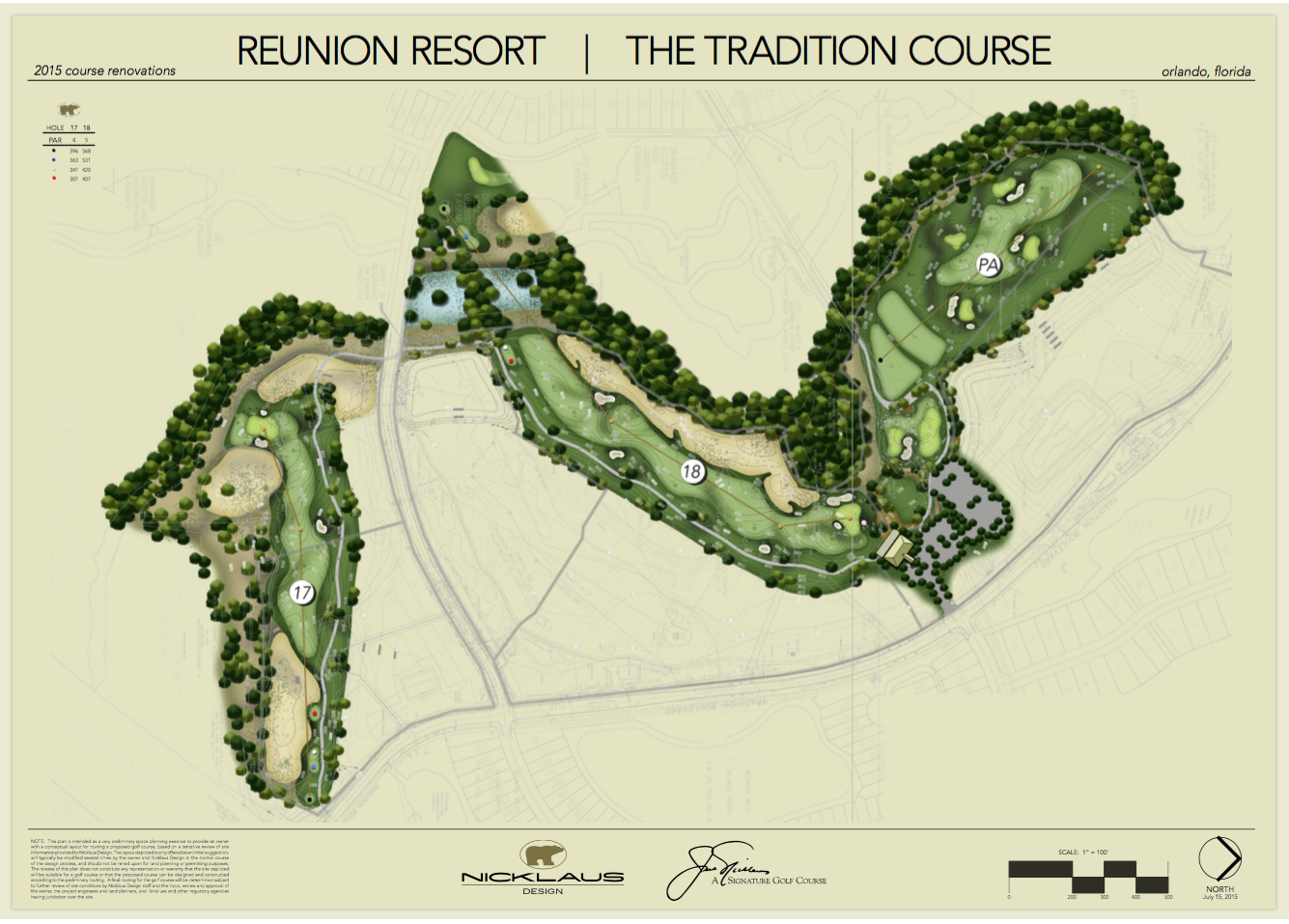 As fall in Florida has just now approached us, it is time to enjoy the cooler weather outside! Fall to Winter is Florida's prime time for travelers to come to Reunion and enjoy the amazing golf courses!
Exciting new changes are happening to Reunion's Jack Nicklaus golf course as we speak! The above photos shows the 17th & 18th hole renderings for the NEW enhanced changes to the Jack Nicklaus golf course here at Reunion.  These changes are in conjunction with the newly proposed clubhouse amenity slated to begin construction sometime 1st or 2nd quarter 2016 with a completion sometime mid-2017.
 Jack has brought his unique perspective and design Reunion and has continued to improve the course to make sure it's destined to become a classic.
***DEVELOPER DISCLAIMER: This plan is intended as a very preliminary space planning exercise to provide an owner with a conceptual layout for routing a proposed golf course, based on a tentative review of site information provided to Nicklaus Design. The layout depicted is only offered as an initial suggestion, will typically be modified several times by the owner and Nicklaus Design in the normal course of the design process, and should not be relied upon for land planning or permitting purposes. The release of this plan does not constitute any representation or warranty that the site depicted will be suitable for a golf course or that the proposed course can be designed and constructed according to the preliminary routing. A final routing for the golf course will be determined subject to further review of site conditions by Nicklaus Design staff and the input, review and approval of the owner, the project engineers and land planners, and land use and other regulatory agencies having jurisdiction over the site.